We believe the future of fashion is circularity. Working with our partners, Valerius 360, we are committed to using only jersey materials made from textile waste. By recycling cutting waste, as well as overproduced and unsold stock, we can create garments of the highest standard in quality and sustainability. Our 360 factory team is constantly working on creating new circular materials and yarns. Our mission is to expand our product range as these new innovations become available and become a fully circular brand.
A traditional fashion model is a Linear system where once a garment is worn out it is thrown in the trash and sent to landfill.
Recycling systems now exist where that worn out garment is recycled into a new fabric but it will ultimately end up as trash as the fibres lose their quality every time they are recycled.
A circular system keeps recycling all resources of the garment so nothing goes to landfill.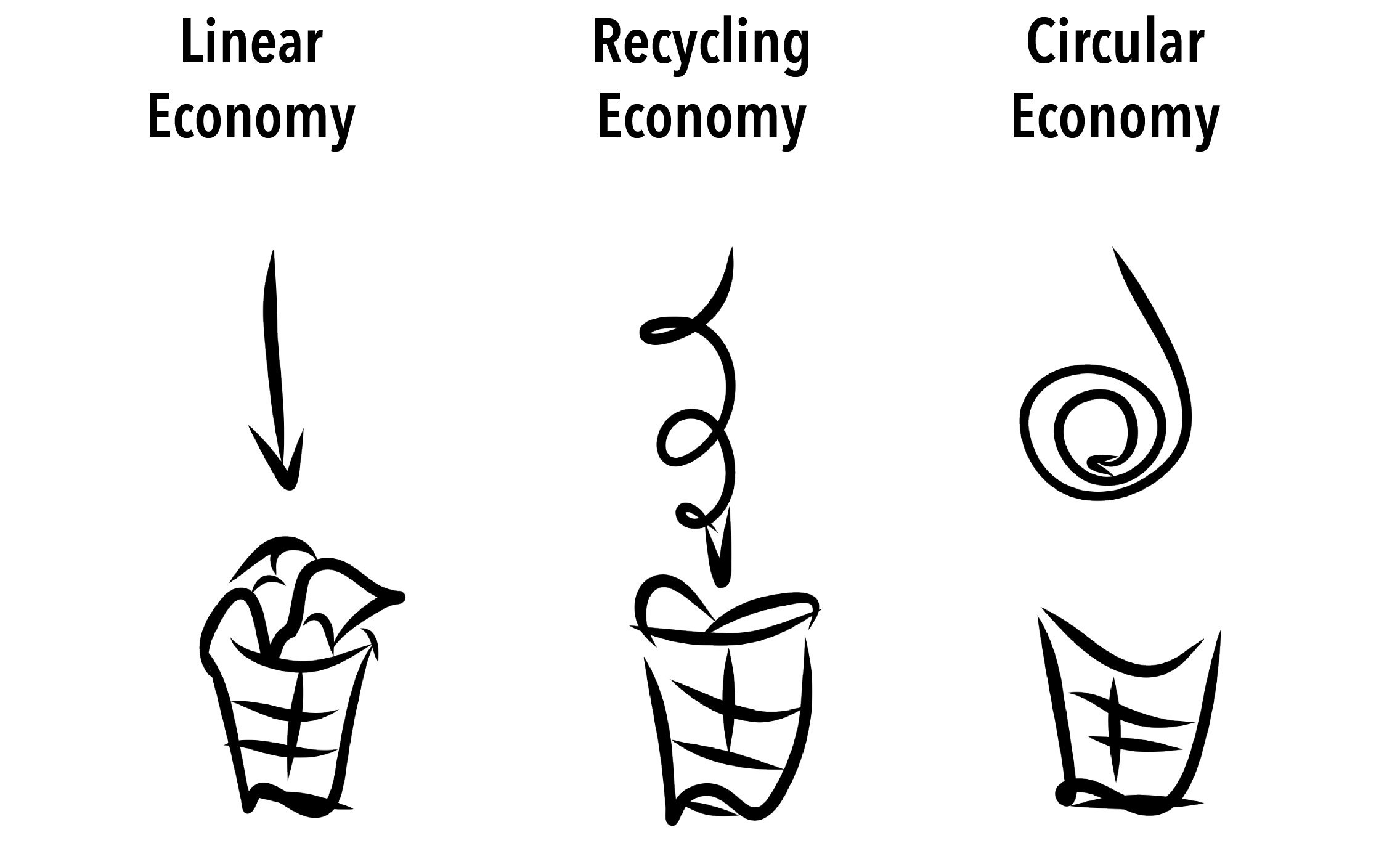 HOW IS A CIRCULAR GARMENT MADE?
At the 360 factory in Portugal, textile waste from their production and their customer's production is collected.
This is then sorted by colour and fabric composition.
Next, the material is crushed over and over again until it becomes soft, raw fibres.
These recycled fibres are then reinforced with a sustainable fibre and spun into a new yarn.
This new yarn is knitted together to create a brand new fabric.
The new fabric is then cut and sewn to create a Nu-in garment.
When that product is worn and old, it can be sent back to the factory for recycling and the whole process starts all over again. A closed loop, truly sustainable system.
Achieving a circular fashion economy means implementing a circular approach into every part of the brand.
One key step for this model to work is the use of sustainable materials that can be recycled. Working closely with our factory partners 360, our goal is to use 100% recycled, responsible fabrics in:
- 50% of our SS23 collection
- 80% of our AW23 collection
- by SS24 100% of our whole product offering will be recycled materials from our 360 factory
From design to production to a take back system, there are many steps that will move us closer to our fully circular model and we want you to come on this journey with us. Here are some of our goals and commitments for the upcoming years:
- 100% 360 recycled or sustainably sourced materials by 2024
- Only reusable, recyclable or compostable packaging
- Implement a customer take back system by 2024
- Launch Nu-in market that customers can trade second hand clothes by 2025